We are living in an era where everything and everyone is going digital. It's safe to say that the digital space cannot completely replace the good old business card being one thing the digital space simply can't do. You want to make a good first impression, so invest in a custom business card design so that you can make a good one. How much do you think it will cost, you ask? It's time to talk numbers! Let's get started!
Our research shows that 73% of small business owners consider business cards to be very important when meeting people face-to-face when attempting to network. We also found that 29% of respondents to our poll indicated that they will not do business with a company that has a "cheap-looking" business card. Ouch…
The only thing that can be said about this is that it is time for you to reconsider your marketing budget and make some room for solid custom business cards. Do you really need a custom business card, and if so, how much do they cost, and do you actually need one? It's time to find out! Let's take a look at it!
What are the benefits of getting a custom business card designed for you?
If the previous business card statistics are not enough to persuade you, let's consider some additional advantages of having a business card. A business card, in essence, is like a tiny billboard that you carry around in your pocket, making networking much easier and more efficient. In addition to containing all the information needed, it also meets a variety of needs on a professional level.
Make your message stand out by attracting attention
It's rare to have the opportunity to make a great first impression when you meet someone face-to-face for the very first time. It's pretty important to make a good first impression when you're meeting someone you've never met before, especially if they are a great prospect or person you've never met before.
If you use custom business cards as your marketing tool, you have a strikingly limited arsenal of tools readily available to you to use. They can be used as a way to grab attention and make a visual impression of your brand. The next benefit that we will discuss is related to this.
It would be great if you could play around with the sizing of your business card design if you want to stand out from the crowd. If you choose to make business cards of a different size from those common, your card will stand out from the rest of the pack. This is especially true if you plan to attend an event or tradeshow where many business cards will be given away.
The most important thing you need to do is to find a print shop that is willing to work with you during the creative process. There is no doubt that it is possible for a designer to create a unique shape, but the print shop ultimately has to print and cut the shape in a certain way, in order for it to work, in order for the design to work.
It is true that business cards can be just another piece of paper in people's pockets, or they can make a lasting impression that keeps you from fading into the background and avoids you from becoming lost.
Your brand needs to be expressed
The other reason why you should get business cards for your company is that they are a great way to convey your brand to your customers. There is only so much that can be conveyed through a conversation, but there is much that can be conveyed through a visual representation of your brand.
The benefits of creating personalized business cards are that you, along with your designer, can include as much or as little information on them as you wish. In order to show off confidence, you may wish to go with a bold type font, or you may wish to go with a colorful approach in order to keep things playful.
It is important to be mindful of the colors that you choose because each of them has a deeper meaning. Our third benefit of using these tools wisely is that they can help you create deep connections with people you meet, which is one of their primary functions.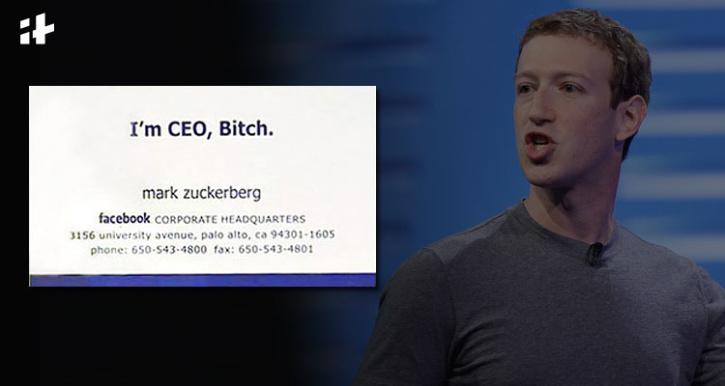 Facebook's first business card became legendary for its catchphrase "I'm CEO, Bitch." It was a bold move, but it worked when a revolutionary brand like Facebook, which at the time aimed to attract young people skeptical of traditional corporate culture, was a revolutionary brand like Facebook.
Create deeper connections
There is no doubt that a professional business card will provide recipients with information on how to reach you. They are also an important part of the larger picture when it comes to connecting with people. It is a small piece that will be cherished by a friend or family member of yours as a direct memory of your company and the relationship you share with them.
The chances are that when you hand out a few dull-looking business cards at the last minute, they will go straight into the trash. A beautiful and well-thought-out card, however, can show people that you care about them enough to form a connection with them, which can lead to a lasting relationship.
What is the cost of custom business cards?
The first thing you need to do is create a striking business card. It is pretty much a given by now that we know that much! The natural thing to do, however, is to keep a close eye on how much they will cost you as a business owner.
As harsh as it may seem, there is no exact way to put a price tag on a professional business card, even if you want to. There is a wide range of price ranges for business cards, which can range anywhere from FREE to as high as $1500 for the most expensive business cards in the world. There's a pretty wide range of cards we are dealing with when you consider that you are most likely going to need a good number of cards in total.
Considering that you are like most small businesses, you will most likely need to find a happy medium for your business. The design is solid and striking, while not breaking the bank in the process. Listed below are three different price ranges to show you what you can expect in terms of cost: budget, medium, and high-end.
Designed according to the price range of your business card
It isn't hard to find places where you can get custom business cards when it comes to where you can get them. You can design your own business cards or hire a design agency to do it for you, or if you'd rather, get your hands dirty and hire someone to do it for you: let's compare the price tags of the different options to see which one is best for you.
Budget Range
As far as the cost is concerned, doing it yourself is the cheapest option. Even though designing your own business card isn't for the faint of heart, there is an increasing number of templates online that can be used to create a free business card.
It is important to keep in mind that if you choose this method, you may risk having a similar business card as others, which will negate some of the benefits mentioned earlier. Depending on your budget, you might be able to afford a paid template or plan, which ranges from a few dollars to $30 per month depending on the plan. Hosting a design contest is another option that falls under the budget range category.
Design contests are a great way to get your hands on graphic design if you are just starting out, and they also provide a great opportunity for beginning designers to add their work to their portfolios. In order to enter a design contest, there are many different websites available to you.
Mid-range
Choosing a mid-range option to design your business card would probably be a better choice. Then you won't have to worry about having the same design as everyone else and you won't have to deal with rookie mistakes that inexperienced designers make.
One of the first options for a mid-range option is to hire a freelance graphic designer to do the work for you. Graphic designers usually charge between $15 and $150 per hour, depending on the level of expertise of the designer.
It is important to keep in mind that making a business card from scratch is not a one-hour job. Particularly if you need a lot of design work done, hiring a freelancer can quickly add up in costs. That's why we are providing you with another option, one that is based on subscriptions, which is a subscription-based design.
A subscription-based design is a service where you pay a monthly fee to receive graphic design services on a regular basis. If you need consistent graphics for your company, most platforms offer unlimited design, which is helpful if you need your graphics to be consistent across the board.
High-end range
You got money in the bank, don't you? When it comes to getting your business cards designed, then you could go all out and look at these high-end options in order to get them done.
There are two options available to you when it comes to designing your business cards. The first option is to hire a design agency. These agencies often charge a minimum project price to get work because they deal with big people. Your business card design will probably be rejected if you ask them to take care of it alone, as this is likely to lead to many rejections.
In general, the price of a project at a design agency starts around $2,500 for a small project and can go up to more than $10,000 for a large project.
The benefit of working with a design agency is that you have access to an expert team of designers and marketers at your disposal. There is no need to ever again worry about not being able to get your hands on striking design if you can afford it.
Last but not least, you could always consider hiring an in-person graphic designer to join your team of project managers. In this way, you will have someone whose knowledge of your business is in-depth and who is readily available to create designs only for your business when you need them.
It is estimated that the average annual salary for a full-time graphic designer is $50k per year.
👉🏻 Look out for the latest Marketing & related Tips @lepakcreator Telegram Channel!
(credits: Indiatimes)