Establishing intelligent marketing objectives is the cornerstone of achieving improved outcomes in your marketing endeavors, initiatives, and plans. These objectives enable you to deconstruct your goals into finer, more explicit, and feasible milestones, fostering motivation and enhancing your ability to prioritize your efforts effectively.
What Are SMART Marketing Goals?
SMART marketing goals represent actionable targets designed to contribute to your company's overarching business objectives within a defined timeframe. SMART is an abbreviation indicating that your goals should be specific, measurable, attainable/aspirational, relevant, and time-bound.
Crafting SMART goals aids in elucidating your desired achievements. Consequently, you and your marketing team can strategize and determine the optimal tactics to employ, thus transforming your plans into tangible outcomes.
4 Examples Of SMART Marketing Goals
These illustrative SMART marketing goal examples will demonstrate the process of transforming a standard marketing objective into a SMART goal, ensuring that it aligns with each element of the acronym. This preparation will equip you with the knowledge needed to craft your own SMART marketing goals when you're ready to begin.
1. Get More Website Or Social Media Engagement
SMART Goal:
By publishing five blog posts weekly, we will boost engagement on our website by 100%. Each post includes three or more links to our internal content.
Specific: I want to:
Drive new visitors to the company's website
Increase the time spent on the site and the number of page views per visit
I will achieve this by increasing the number of blog posts we publish weekly from two to five. We will also increase our usage of internal links from one to three per post.
Measurable: We aim to double website engagement.
Achievable/Aspirational: By boosting website engagement, we can drive brand awareness and increase the number of leads we get.
Realistic/Relevant: The number of monthly visitors to our website went from 0 to 10000 (as of last month) after we began publishing twice-weekly blog posts six months ago. So, our goal is attainable. We can afford to hire a freelance writer to handle the extra workload.
Timely: We plan to achieve this in three months.
2. Rank Higher In Search Engines
SMART Goal:
To drive more organic traffic, we will move our search results page position from 12th to the top 3 for our main brand-related keywords. Through keyword and content optimization, this also leads to our pages
Specific: I want to boost our SEO performance and secure the 1st, 2nd, or 3rd ranking positions for the target keyword(s) "smart marketing goal examples" by increasing keyword usage and optimizing our content to be more valuable than our competitors.
Measurable: The aim is to climb 9-12 spots higher on search engine result pages (SERPs) from our current position.
Achievable/Aspirational: Higher rankings will drive more organic traffic to our site, increase our authority, and raise awareness for our brand.
Realistic/Relevant: Based on my research, many companies have achieved similar rank results in a shorter time frame, and we have the resources—writers, editors, and SEO specialists—to pull it off.
Timely: End of this year.
3. Improve Conversion Rates
SMART Goal:
By redesigning the landing page and updating the copy, we can increase the conversation rate by 15% within five months.
Specific: I want to convert more visitors into leads by revamping our current landing page and rewriting the page copy.
Measurable: We are shooting for a 15% rise in conversions.
Achievable/Aspirational: Improving conversation rates will give our sales team more marketing-qualified leads to work with.
Realistic/Relevant: We have the resources to meet this goal. This landing page generated higher conversions in the past, but the numbers have declined for a while. The last time we redesigned our landing page, we got a 10% uptick in conversions.
Timely: In the next five months.
4. Gain More Social Media Followers
SMART Goal:
By the end of the next quarter, we plan to add 8% more followers to our Twitter account, and 30% more to our TikTok and Instagram accounts by doubling the weekly posts we share.
Specific: I want to increase the company's follower base on Instagram and TikTok by 30% and on Twitter by 8%. We'll reach this by sharing three-five tweets, one video/reel, and two image-based posts daily featuring educational, industry news, promotional, and user-generated content.
Measurable: We aim to grow our Twitter followers by 8% and Instagram and TikTok followers by 30% each.
Achievable/Aspirational: Growing our follower base will expand the brand's reach, engagement, and awareness. All of which will help to drive leads and sales.
Realistic/Relevant: Using a similar tactic, we could grow our TikTok and Instagram accounts by 20% in four months, so this is attainable.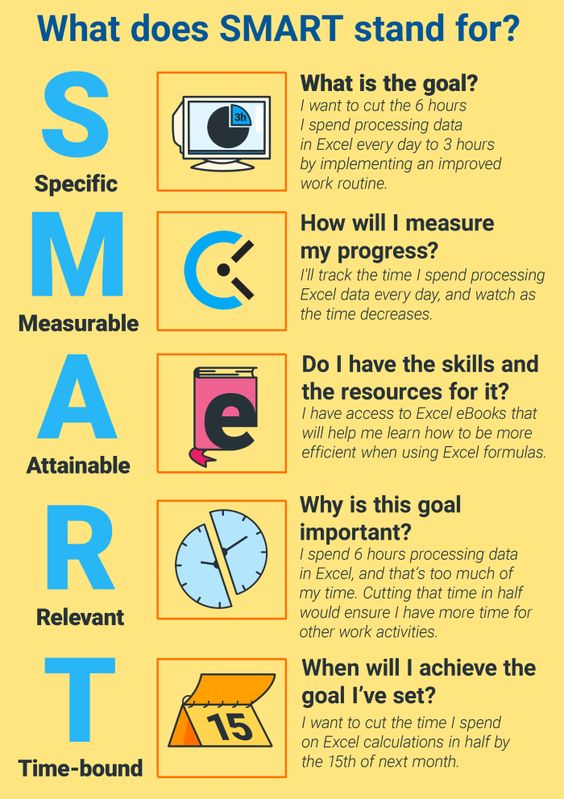 Frequently Asked Questions
What Are Some SMART Goals For Marketing?
SMART goals assist in avoiding ambiguity and discouragement. They provide clarity to your intentions and offer a benchmark to gauge your progress, helping you ascertain if you're moving closer to your goals or lagging behind.
Here are some examples of SMART marketing goals that are applicable to most businesses:
Increasing website traffic
Growing email subscribers
Boosting brand awareness
Getting more conversions
What Are The 5 SMART Goals In Marketing?
SMART is an acronym representing Specific, Measurable, Achievable/aspirational, Realistic/relevant, and Timely criteria. To qualify as SMART, a goal should possess a specific, clearly defined target, a measurable way to assess progress, and an aspirational outcome beyond the ordinary.
Furthermore, it should be realistically attainable based on your past performance and available resources, while also adhering to a set timeframe within which the milestone will be reached.
What's An Example Of A SMART Goal?
A SMART goal must encompass specificity, measurability, achievability/aspirational value, relevance, and timeliness. For instance, you can establish a SMART goal aimed at elevating your search results page ranking from 12th place to the top 3 positions for your primary business keywords. This strategic objective entails enhancing organic traffic and generating more leads for your pages via keyword and content optimization over the next 12 months.
What Is An Example Of A Marketing Goal?
A marketing goal refers to a quantifiable and targeted growth objective that you aim to attain through one or multiple marketing strategies. For instance, if you express the desire to increase the count of social media followers on your page, you have established a marketing goal.
(Credits: Coschedule, Clockify)