Stay Ahead of the Game: Why Leveraging Trends & Virality is Key to Marketing Success + Case Study
Trend leveraging refers to identifying and leveraging popular and emerging trends in an industry or market to gain a competitive advantage. It can be done by marketers, businesses, or individuals who want to maximize the latest trends.
You can leverage trends by staying informed about industry news. Following key opinion leaders, content creators and influencers on social media is an example of reading industry updates.
Utilizing trends ultimately requires a combination of research, analysis, and creativity. You can take advantage of emerging trends and gain a competitive edge in your industry by staying informed and using data to inform your marketing strategies.
There are countless online examples of how people leverage trends and get more viewers and engagement out of them. Here's a recent example:
CASE STUDY 1A:
An unexpected sight of a chicken roaming around Springleaf MRT station has caught the attention of the fans of the Facebook page: Roads.sg which recently stirred a viral buzz in Singapore.
Previously, Texas Chicken trended for its "Chicken Bag" for its 13th Anniversary promotion. The post leveraged upon the viral "Chicken" trend and created a humorous artwork that was actually interpreted as their chicken being missing. The post is not only being used indirectly but also adding emotional marketing, which is essentially entertaining their potential customers.
CASE STUDY 2A:
Coming from a marketer's perspective, their Chicken Bag campaign is an incredible success.
There have even been media reports of their restaurant staff crying due to the stress and pressure she faced from customer enquiries. While this could be negative news, it spiked interest in the Chicken Bag and why people wanted it so badly. Especially for those who went down without redeeming one, this could easily influence more people to want one.
In those few days, everyone is talking about the Chicken Bag, from its pre-launch to its launch to its out-of-stock status. From Facebook to Tiktok.
After the product is out of stock, you might think the virality stops here.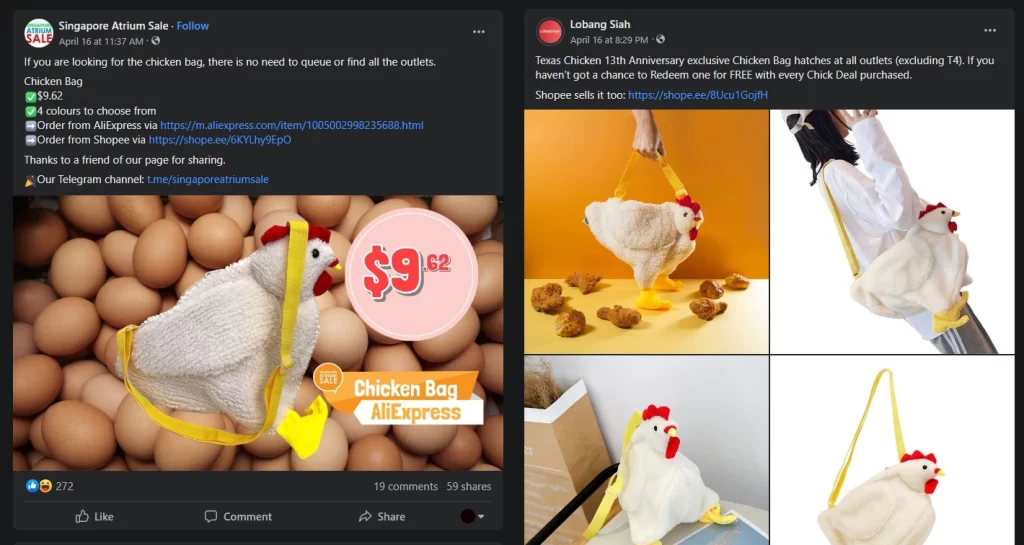 But there are also other media that continue to pick up, such as the two viral Facebook pages here: Singapore Atrium Sale and Lobang Siah. They have found the very popular "Chicken bag" on Shopee.
From Texas Chicken 13th Anniversary to Chicken Bag to Shopee, can you relate?
CASE STUDY 2:
Mixue, a Famous Chinese Dessert Brand has gone even more famous on 23rd April 2023 on Social Media Tik Tok. However, not for its food but its hilarious Mascot.
Seeing an overly dramatic or expressive mascot moving about is unlikely to be common among Singaporeans. When something is rarely seen, it is more likely to become viral.
Perhaps Singaporeans think this particular Mixue Mascot is too bored at work or too passionate about his job unknowingly. It is actually Mixue's very own marketing strategy. Such moves have been used by all their Mascots to gain attention.
Many people jump into their virality by using their names, hashtags, or just describing what the footage is. Due to its re-targeting algorithm, some of the past posts by others went viral as well.
In addition to gaining more audiences, this allows them to remind their past customers why they ought to try Mixue again…
To Conclude
Taking advantage of trends and virality is essential to marketing success because it allows businesses to reach a larger audience and engage with their target audience more effectively. A viral trend or piece of content can spread rapidly across social media platforms, generating buzz and drawing attention to the brand.
Companies can stay relevant in their industry by leveraging trends creatively. Marketers can stay current and appeal to their target audience's changing preferences by keeping up with emerging trends.
Additionally, viral content can elicit a powerful emotional response in viewers, resulting in increased engagement and sharing. A strong brand identity, increased brand awareness, and ultimately increased sales can be achieved with this type of content.
In today's fast-paced digital world, leveraging trends and virality is key to marketing success. Companies that stay current and create viral content that resonates with their target audience can increase their reach, engagement, and profitability.
More FREE & Fast Marketing related Tips, follow us on our Telegram channel now!
(Credits: Fahhaha_, Mothership, Heidi, Roads.sg, Singapore Atrium Sale, Lobang Siah, Texas Chicken Singapore)